A man grabbed a Richmond County Sheriff's deputy's Taser and fired it twice early Sunday morning as he fought against the officer in the parking lot of the Washington Road Waffle House.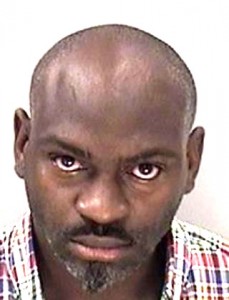 John Wesley Hodges, 44, of the 1600 of Jonathan Place, Hephzibah, was arrested and charged with felony obstruction of an officer, a sheriff's report said.
The trouble started when a friend of Hodges' broke a sink off the wall in the ladies' bathroom at about 3 a.m. The deputy working special duty went to talk to the man. Hodges kept getting between the deputy and the sink destroyer, pushing the man toward his car and telling him to leave.
The deputy asked Hodges to stop and to go to his car, but he wouldn't listen so the deputy arrested him and ordered him to put his hands behind his back. Hodges refused and the deputy took him to the ground. Hodges shoved his hands and arms under his body and fought against the deputy even after he was drive stunned with the Taser, the report said.
The deputy got Hodges' hands out from under him and  put his Taser on the ground next to him so he could cuff Hodges. The man grabbed the Taser and the deputy's hand. Hodges then fired the Taser twice, discharging both the cartridges into the parking lot, the report said.
Another deputy arrived, and Tasered Hodges and he was cuffed. The arresting deputy was injured during the struggle, receiving cuts and scratches to his left arm, elbow, jaw and right leg, the report said.
Meanwhile, another man interfered with deputies as Hodges was arrested. Jason Banks, 33, of the 2900 block of Avalon Court, Hephzibah, was told to back off repeatedly. He ended up charged with disorderly conduct, the report said.