UPDATE FROM MONDAY NIGHT: Jeremie David Tobey (20) was apprehended around 5:30 pm Monday in Connecticut. He was taken into custody by the Connecticut State Police. The vehicle has been located by Connecticut authorities. Tobey will be held in Connecticut while awaiting the extradition process. This investigation is still ongoing and information will be released as it becomes available.
Earlier story: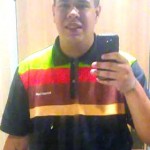 Cody Diminovich saw a young neighbor who was "down on his luck" last year and invited him to move over to his Aiken mobile home for a while.
That stay turned into months. But Jeremie Tobey became a part of his extended family, along with Cody's sister, Caitlynn, and Cody's good friend, Pamela Lawson, who also lived at 1033 Buldra Lane.
Even after Jeremie lost his job and couldn't help, his new family fed, clothed and gave him love and didn't stress him over it.
Unfortunately, that act of kindness may have cost Cody and Pamela their lives.
Authorities say the 20-year-old houseguest shot his host dead Friday night along with Lawson. "Multiple gunshot wounds," the coroner says.
Tobey then fled in Lawson's blue Honda Civic, and he is still being sought. He has some family in the area, but his Facebook profile suggests an attraction for Connecticut, where he used to live and where his beloved uncle was violently murdered just a month ago. In online videos, he smoked a blunt in his uncle's honor and promised to find a way home.
"I have no fear in my heart right now," he says. "All I see is red."
For now, sheriff's officials said they have sent out an alert throughout the South but can't comment on any possible search in Connecticut.
Meanwhile, the victims' relatives are left to pick up the pieces and figure out why Tobey would turn on the people who embraced him.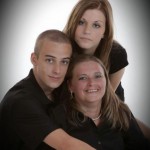 "We are devastated and still in shock," said Cody's mother, Lane Prince of Greenville, who had to call the Aiken Staples on Saturday to let them know Cody wouldn't be coming to work. Cody worked there as a tech manager, she said. (Pictured is Lane Prince with Cody and Caitlynn.)
Ms. Prince got the devastating call Friday night from her daughter. It turns out Caitlynn had an appointment that may have saved her life. She wasn't at home when the bullets started flying.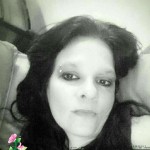 "I can't fathom what could have possibly happened for him to want to hurt Cody or Pam," Ms. Prince said. (Pam is pictured at right.)
Ms. Prince recalls visiting her children at the residence, which sits among a cluster of trailers on a private road near New Ellenton, off Chime Bell Church Road. Jeremie was acting like a typical young person, playing around a lot and laughing easily, she said.
"He became part of their family too and was accepted as such," Ms. Prince said.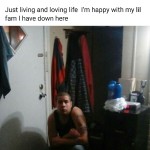 Just a few weeks ago, she recalls a Facebook post from the young houseguest (pictured). It showed him posing in the trailer. It had this caption: "Just living and loving life. I'm happy with my lil fam I have down here."
And Cody had welcomed him into his family.
"Cody has a huge heart and has always been this way," Ms. Prince said. "If he thought you deserved a chance he wouldn't judge you and would help in any way he could down to his last dollar and not think twice or ask anything in return."
Cody was an artist, going to school online for his degree in animation and CAD, which stands for computer-aided design.
As for Pamela, her children reportedly lived with their father nearby, close enough to see them often. Ms. Prince said she knew Pamela as a "great mother, caregiver and friend." She was not judgmental and willing to help just as much, Ms. Prince said.
Jeremie's dark side. Much of Jeremie's background remains shady. He has no criminal record in Aiken County. An online search shows he battled with depression and rejection.
As a young teen, he tweeted a photo of a cut-up arm and said he planned to kill himself after his relationship ended with his girlfriend. "I miss you and now I have nobody," he wrote in 2012.
He has a number of Facebook pages, where he posted this last month: "I think it's funny how I'm a child but you just don't know I'm 20, and I try and help you but no one can see the good side of me because no one takes the time to sit with me And Get To Know The Real Me."
In mid-December, Jeremie flooded friends with the sadness he felt over the death of his uncle, Steven Devout, a man he considered his dad. Devost was shot outside his Sprague, Conn., home after going outside to investigate a loud bang. No arrest has been made.
Ironically, young Jeremie now faces his own murder accusations, hunted by the police on two charges of murder and one for grand larceny.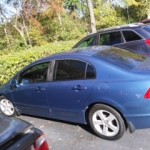 If anyone has information on the whereabouts of Jeremie, please contact the Aiken County Sheriff's Office at (803) 648-6811.  Tipsters can remain anonymous by contacting CRIME STOPPERS at 1-888-CRIME-SC (1-888-274-6372)
– Story by Greg Rickabaugh