A Hephzibah teenager was charged this week with child molestation for allegedly having sex with a 12-year-old girl last month in a public restroom at the Augusta Mall.
Jonathan Patrick Green, 19, of Ulm Road, was arrested Monday with child molestation – non aggravated.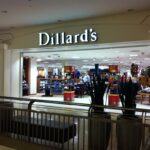 The shocking details are spelled out in an arrest warrant: Green "did an immoral act" to a 12-year-old girl on Feb. 12 inside the bathroom of Dillard's at 3450 Wrightsboro Road in Augusta.
"With the intent to satisfy his sexual desires, the accused ripped the victim's panties off, lifted her on a sink of a public restroom, and penetrated her vagina with his penis," the warrant says.
Green remained Saturday in the Richmond County Detention Center, where he is being held without bond. For a first-time offender, the required prison sentence for someone convicted of non-aggravated child molestation is 5-20 years, in addition to counseling.
The warrant: