A local woman was raped in Augusta by a man she met through a dating app, authorities said.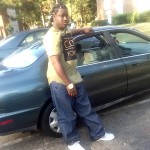 The 24-year-old Waynesboro woman told authorities that she met Gikarre Rollins on a dating app called "Tagged," according to a sheriff's report. She arranged to meet the 21-year-old man on Saturday night.
But when she was dropped off at a home on Stone Road, Rollins took her to a vacant trailer, where he robbed her and raped her, authorities said. It turns out he's a convicted felon with a violent past.
A sheriff's report spells out what happened on Saturday night:
"She and Gikarre walked up the driveway to a vacant trailer where Gikarre walked inside and she stopped in the doorway. … Gikarre continued trying to get her to come inside the trailer and when she did, he snatched her cell phone from her and then hit her over her left eye with a black handgun. … Gikarre then took her wallet with her ID and SS cards."
The suspect then forced the woman into a back bedroom and made her lie down on an old mattress, where he raped her.
"Gikarre waved the handgun in her face the entire time of the incident," a report says. "She pushed off of Gikarre and fled out of the front door of the residence where she ran back to the car" with the person who drove her there. They then called the cops.
The woman knew Gikarre's username on the Tagged app was "Gikarre R." Her friend helped her track down Gikarre's full name and pictures from his Facebook profile.
Rollins, of Hephzibah, was captured Sunday morning and charged with rape, armed robbery, possession of a weapon by a convicted felon and possession of a weapon during the commission of a crime.
The Jail Report featured Rollins in 2015 when he pulled a gun on a woman after a dispute about children playing rough at a park near Southgate Drive. Rollins got in the face of the 28-year-old woman and yelled "B****, I'll f*** you up." The woman began to walk away and Rollins pulled a chrome-plated handgun from his waistband and shoved it in her face.
When deputies answered a call to the park, Rollins fled with two guns in his hand, a chrome handgun and a sawed-off shotgun. He tossed the guns in vacant apartments where the windows had been knocked out, but he was captured. It turns out the pistol had been stolen.
Superior Court Judge James Blanchard Jr. accepted guilty pleas and gave Rollins 20 years of probation and fines, according to jail records.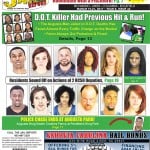 For more crime news, pick up this week's edition of The Jail Report.