The Richmond County Sheriff's Office released this statement Monday on the upcoming gay pride events in Augusta: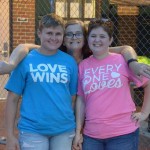 "In light of the recent tragedy, the Public Information Office has received numerous inquiries over concerns for safety in our community and specifically for the LGBT Community and their upcoming events. I assure you that the safety of our entire community is the foremost concern of the Sheriff's Office and all of the men and women who serve our community.
After a tragedy such as the one in Orlando, all Law Enforcement Agencies are naturally on heightened alert with a diligence for security. We are steadfast in our resolve to insure that the upcoming parade and events are trouble free and safe for everyone.
We extend our heartfelt condolences to the City of Orlando and all of her citizens."
The festival is scheduled for June 24-25. For more information on the pride events, click here.