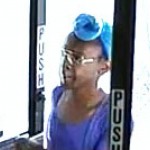 This woman is accused of stealing two bottles of Grey Goose last Thursday from the Beverage Outlet on Bobby Jones Expressway in Martinez.
Columbia County authorities are asking for your help in identifying her. Witnesses say she may have fled the store in a white Pontiac Grand Prix.
If you recognize her, please contact the Columbia County Sheriff's Office at 706-541-2800.
For more crime news, pickup this week's edition of The Jail Report. Here's a look at the cover.