To begin with, he's 17.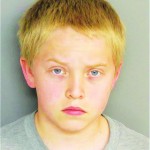 Not everyone understands that a 17-year-old boy is considered an adult in the eyes of the law, and he is taken to the jail with all the other adults, not juvenile facilities.
In this case, many of our readers say that Christopher Snodgrass looks like a boy. But he happens to look very young for his age and stands 4'11" tall, weighing 100 pounds.
"How old is this child and isnt it illegal to post pictures of juveniles?????" said Cathy Rose on her Facebook page.
"We seen him working at McDonald's on #1 and asked him how old he was. And he said old enough to work.. Bahahahaha.. I liked him tho. Seemed like a cool kid," said Serena Tyler.
Many readers wanted to know what he did to get arrested. We obtained the incident report.
According to Aiken police, the young man assaulted a younger boy during lunchtime at Aiken High School on Monday. In fact, the 14-year-old victim said Snodgrass punched him in the face.
"You wanted a second round," Snodgrass reportedly told the victim.
Two witnesses said Snodgrass punched the kid for no reason, unprovoked. And the victim's father told police he wanted to press charges.
Despite statements from the victim and witnesses, Snodgrass denied hitting the boy. But he was arrested, handcuffed and taken to the Aiken County Detention Center.
Snodgrass, of the 400 block of Reedy Ford Road, Aiken, has a court date on April 13th.
For more crime news, pick up this week's edition of The Jail Report, sold in local convenience stores.