An underwear thief posed for a bloody mugshot Friday after fighting a cop and daring a Richmond County deputy to taser him at Walmart.
Walter Brawner fell on his face when the deputy took him up on the offer and shocked him at the Dean's Bridge Road store. The 47-year-old suspect didn't stop after suffering the faceplant, though. He ended up in leg shackles after continuing to resist arrest.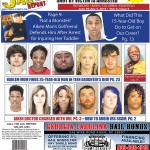 For more crime news, pick up this week's edition of The Jail Report, sold in local gas stations for $1.50.
A sheriff's report described what happened at 2 a.m. Friday inside Walmart:
Deputy Dewayne Christy was working a special duty at the big-box store when a witness tipped him off that Brawner was going into an area roped off for waxing.  The deputy watched as the suspect went down the closed aisle with 10 packs of underwear and four packs of T-shirts. When he came out of the aisle, the items were inside a white plastic garbage bag.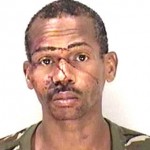 Brawner then pushed the buggy out the front door and past the registers without paying for the items. Deputy Christy stopped the man as he was exiting and told him to go to the loss prevention office.
Brawner pushed the buggy into the officer. So Deputy Christy grabbed him as he was trying to go out the doors. Brawner pushed the deputy into the door and tried to run away.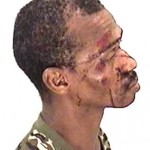 "I advised Brawner that I would tase him and he stated that he did not care and continued to run," Deputy Christy wrote in his report. "I then tased Brawner and he fell face first onto the pavement. Brawner was then taken into custody."
An ambulance came to the store to patch up the suspect. Later, while the deputy tried to place Brawner into a patrol vehicle, the suspect again tried to run from officers. He was placed into the patrol vehicle and leg shackles were placed on him before he went to Augusta University Medical Center for treatment and then jail.
Brawner was charged with shoplifting and obstruction of an officer. He was booked into the Richmond County Detention Center.