Richmond County authorities have connected two suspects to last month's murder of a man at Jennings Homes Apartments, and one suspect remains on the loose.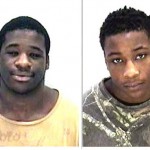 Bilal Givens, 17, (left) and Trequan Catrez Clay, 17 (right), are both accused of murder in connection with the May 15th slaying of Marion Terry.
As you may recall, Terry was found dead behind the apartments on the 1900 block of Cooney Circle.  Authorities previously said Terry and another teen had just participated in a shooting that seriously injured a female neighbor. (Previous story: http://bit.ly/21l1Aua)
Investigators are asking for your help in finding Trequan Catrez Clay in Terry's death. Both Clay and Givens are charged with murder and weapon possession in the death of Terry, shown here.
Anyone with any information on the whereabouts of Clay are asked to call the Richmond County Sheriff's Office at 706-821-1080, Inv. Scot Herring at 706-821-1022 or Inv. Jonathan Counts at 706-821-1046.
Callers may remain anonymous.