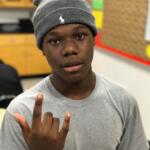 One person was killed and another injured in a shooting on Meadowgrove Drive in Augusta early Sunday.
Authorities were asking for the public's help in locating this driver of a white Nissan Versa, who should be considered armed and dangerous. "Use Caution," a Wanted poster says.
The gunfire happened around 12:35 a.m. Sunday on the 3600 block of Meadowgrove Drive, killing 18-year-old Jaylen Nairne of Augusta. He was rushed to University Hospital's ER, but was pronounced dead, Coroner Mark Bowen said.
Nairne became the county's 18th homicide for the year, with a 19th homicide following a few hours later in an unrelated killing.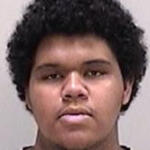 Responding deputies on Maedowgrove Drive also found 18-year-old Brice Fountain, who had been shot at least once. He lived on the street.
Fountain was transported to Augusta University Medical Center by ambulance, where his condition was not known.
Any information concerning the pictured suspect, please contact the Sgt. Christopher Langford or any On-Duty Investigator at the Richmond County Sheriff's Office: 706-821-1020 or 706-821-1080.
In an unrelated homicide, a Richmond County deputy was flagged down at 4:10 a.m. Sunday in reference to an assault on the 1700 block of Walton Way. Deputies arrived on scene and located the victim, who had been struck at least once with an unknown object, sheriff's Sgt. William McCarty said.
The victim had been involved in an altercation with another subject at the bus shelter on Walton Way at Crawford Avenue, the coroner said.
EMS arrived and CPR was attempted by responding deputies and EMS. The victim succumbed to his injuries and was pronounced deceased at 4:32 a.m. Sunday.
No suspects or motive was discussed. The victim's name was not released.