Two armed men killed an Augusta man and stole his cell phone early Tuesday, according to authorities.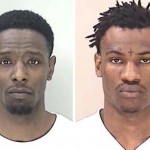 One of the men later confessed to the killing. Authorities quickly charged 34-year-old Brodrick Kyle Merritt of Augusta (left) and 18-year-old Jaqwon Tyree Baker of Hephzibah with murder and weapon possession in the death of 22-year-old Malik Anthony Miles.
Merritt was also charged with possession of a firearm by a convicted felon, and the teen suspect was charged with armed robbery for allegedly taking the victim's phone.
A woman who lives in Idlewild Drive was preparing to go to sleep around 1:30 a.m. Tuesday when she heard gunfire. "I just heard the gunshot and I looked out the window and I saw the (man) outside in front of my neighbor's house," the woman told The Jail Report. "I called 911. They came and took care of him."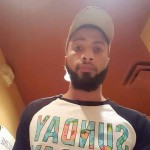 Authorities found Miles – who lives nearby – suffering from a single gunshot wound to the left side. Miles (pictured at right) was rushed to Augusta University Medical Center, where he died at 2:17 a.m. Tuesday, Coroner Mark Bowen said.  He was shot with a .357 Taurus revolver.
Friends say he had recently moved to the Augusta area from Philadelphia and worked at the El American restaurant in Evans.
Criminal records show Merritt has been in and out of prison four times for various crimes in Georigia, including dealing cocaine, entering vehicles, criminal damage to property and obstruction of law enforcement. In his last prison stay from 2011, he served just six weeks of a five-year prison sentence before he was released early, according to state records. Baker does not appear to have a record.
Both are being held in the Richmond County Detention Center without bond.
Note: If you have a photo of a memory of Malik to share, please text it to 803-487-3224 or email it to publisher@thejailreport.com.