An Aiken child porn suspect has been tied to the September sexual assault of a female horse, authorities said Monday.
Damian Connor, 31, confessed to being the culprit behind a high-profile sexual assault on a horse that his wife complained about on Facebook and to local news outlets, sheriff's Capt. Eric Abdullah said. A warrant says he "inserted his hand into the vagina of a horse with the intent to sexually stimulate the horse and himself." The horse suffered trauma o the vagina as a result.
Connor is the same man tied to child pornography and having a sexual threesome with a male horse last summer. He is now confessed to the Sept. 20 incident.
On Sept. 20, 2019, the sheriff's office responded to Connor's home at 169 Willow Run Road for a burglary and animal call. In this investigation, Connor's wife, Abigail Ronco, told deputies that her horse appeared to have been injured.  She said found her horse with a rope tied around a front and rear leg.
Connor is charged with buggery, making it the third such offense. Connor was booked into the Aiken County Detention Center on May 29, 2020 for this charge as well as two other counts of buggery. On May 19, Connor was charged with 10 counts of sexual exploitation of a minor for allegedly downloading child porn.
He remains free on bond.
Ronco was charged last week with two counts of buggery for allegedly participating in a threesome with Connor and a horse last year.  Here is Ronco's post from Sept. 2019: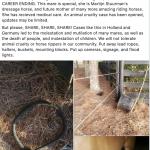 WARNING TO AIKEN, SC HORSE OWNERS! Yesterday between 11:30pm- 5am (9/21/19) Someone HARRASSED one of our mares in her paddock. Found her HOBBLED, and TIED by her neck to a tree. She was in pain. One of our large buckets was moved to the area she was found, a bucket that lives in the barn with the feed. Our vet confirmed our mare was the victim of some form of SEXUAL ASSAULT. She has moderate vaginal bruising, with abrasions, abnormal amounts of mucus/fluid in the vaginal vault, and debris in a very irritated uterus. She is very lucky that she did not permanently damage her neck, spine, or legs. Injuries that are CAREER ENDING. This mare is special, she is Martijn Stuurman's dressage horse, and future mother of many more amazing riding horses. She has received medical care. An animal cruelty case has been opened, updates may be limited.
But please, SHARE, SHARE, SHARE! Cases like this in Holland and Germany led to the molestation and mutilation of many mares, as well as the death of people, and molestation of children. We will not tolerate animal cruelty or horse rippers in our community. Put away lead ropes, halters, buckets, mounting blocks. Put up cameras, signage, and flood lights."