An Aiken man with devil horns tattooed on his forehead was arrested Monday for at least the 20th time since he was a youth, authorities said.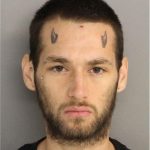 Aaron Steele, 29, was charged with public disorderly conduct and trespassing. (Full criminal background below.)
Steele got "devil horns" tattooed on his forehead sometime between 2014 and 2017, according to a progression of his mugshots. He has recently began combing his bleached hair down and covering them up.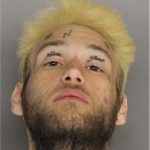 More recently, he has been angling his forehead upward in mugshots to show off his "Never Sleep" tattoos that first appeared a year ago on his left and right eyelids. He also has an inverted cross under his left eye, a mark that is commonly used as a symbol of atheism, humanism, and the occult.
Experts say that several black metal bands use an inverted cross to call attention to their supposed devotion to Satan. Upside-down crosses also appear in horror movies such as The Omen and The Conjuring as a signal of demonic activity.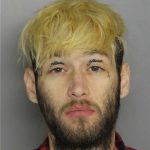 Steele is a repeat offender who has been arrested many times since he was first charged as a teenager in 2007 with disturbing schools, unlawful possession of a prescription drug and possession of drug paraphernalia.
Here's a look at his past record of charges, listed by date of arrest.
11-18-2018: SHOPLIFTING ENHANCEMENT
05-04-2018: DISTRIBUTION, ETC. OF METHAMPHETAMINE, 1ST, POSSESSION OF METH OR COCAINE BASE 1ST OFFENSE – BOB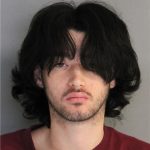 04-01-2018: TRESPASS AFTER NOTICE
02-02-2018: POSSESSION OF LESS THAN ONE GRAM OF METH OR COCAINE BASE 1ST, POSS OF 28G OR LESS OF MARIJUANA 1ST OFFENSE
10-04-2017: MALICIOUS/MALICIOUS INJURY TO ANIMALS, PERSONAL PROPERTY
08-11-2017: TRESPASSING, DISORDERLY CONDUCT
06-11-2017: MALICIOUS INJURY TO REAL PROPERTY
11-14-2014: CONTEMPT OF MAGISTRATE COURT BENCH WARRANT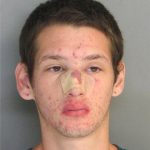 07-15-2014: POSSESSION OF MARIJUANA 2ND OFFENSE, DRIVING UNDER SUSPENSION 2ND, RECEIVING STOLEN GOODS 1000. OR LESS
05-12-2014: MALICIOUS INJURY TO PROPERTY – COMMITMENT
10-06-2013: DRIVING UNDER SUSPENSION -1ST SENTENCE, MALICIOUS INJURY TO PROPERTY, SIMPLE POSSESSION OF MARIJUANA
07-21-2013: DAMAGING CITY PROPERTY, POSSESSION OF DRUG PARAPHERNALIA, VIOLATION OF BEGINNER PERMIT, DISORDERLY CONDUCT
07-08-2013: DRUG PARAPHERNALIA, VIOLATION OF BEGINNER'S PERMIT, DRIVING UNDER THE INFLUENCE
06-13-2013: DISORDERLY CONDUCT
04-01-2012: DISORDERLY CONDUCT
09-24-2011: LARCENY/ BREAKING INTO MOTOR VEHICLE
05-02-2007: DISTURBING SCHOOLS, POSSESSION OF DRUG PARAPHERNALIA, UNLAWFUL POSSESSION OF PRESCRIPTION DRUGS
For more crime news, pick up the latest edition of The Jail Report.