An Aiken mother has been arrested for forcing her 5-year-old son and 12-year-old daughter to live in a room off the carport that had no water, restrooms or heating & air, authorities said.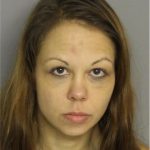 Robin Lynn Medlin, 35, of 1283 George Street NE, Aiken, was charged Thursday with two counts of unlawful conduct toward a child.
Arrest warrants spell out the accusations. Merlin allegedly used a room "attached to a carport of the residence" to house her children.
"The carport does not provide running water, heating, air, or restroom facilities which placed the victim(s) at an unreasonable risk of harm," the warrants say.

The house image that is shown here comes from a 2012 google map image of the property and may not indicate how the property looks now. A Spokeo website says the single-family house has two baths and was built in 1952. It has 1,824 square feet and is valued at $55,000, the site says.
For more crime news, pick up the new issue of The Jail Report, which was just delivered to stores on Friday morning.