Aiken public safety officials on Tuesday denied conducting a body cavity search of a male passenger or exposing body parts of the female driver to the public during a controversial 2014 traffic stop.
That traffic stop by Officer Chris Medlin was captured on video and exploded across the Internet in the last week following its release.
In response to recent media coverage and inquiries regarding events of October 2, 2014, the Aiken Department of Public Safety released this statement Tuesday morning with three points:
1.    The traffic stop was a legal stop conducted as part of an ongoing narcotics investigation based on information received from a documented, reliable informant.
2.     At no time during the traffic stop, was a body cavity search conducted, nor were any private body parts exposed to the public as alleged.  
3.     Based on our review the comment attributed to our officer, which was quoted in the complaint as "You gonna pay for this one boy," was not made by our officer, but instead was made by the vehicle occupant.   
"We remain dedicated to maintaining the highest level of integrity, service, and accountability to those we serve," the statement said in conclusion.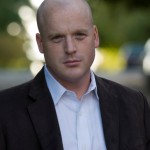 In a story by The Washington Post, reporter Radley Balko (pictured) said he had been working on an investigative series about police abuse in South Carolina and stumbled across the
"horrifying incident"
in Aiken. He references a federal lawsuit filed by attorney Robert Phillips where black occupants Lakeya Hicks and Elijah Pontoon are pulled over by white cops for having a  temporary tag, which was not illegal.
The lawsuit alleges the traffic stop was illegal and that the officers conducted an "anal probe" of Pontoon and exposed Hicks's breasts on the side of the road in a populated area.
The reporter points out that Pontoon has a lengthy criminal history that includes drug charges, but says "his record appears to be clean since 2006, save for one arrest for failure to comply."
With no contraband and no traffic violation to justify the stop in the first place, the officer concluded the stop by giving Hicks a "courtesy warning," Balko reports.
The City of Aiken is defending the lawsuit in court. Merlin still works for the Aiken Department of Public Safety.
For more on this story, pick up the new issue of The Jail Report, which hits stands on Wednesday.