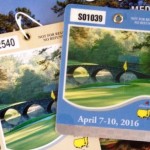 An Appling man said two Masters badges were stolen right out of his mailbox, according to a Columbia County Sheriff's Office report.
The 69-year-old man told authorities that sometime between March 4 and March 28, someone took an envelope from his mailbox on Tradewinds Drive that came from Augusta National containing his two Masters badges.
"He spoke with the mail carrier who delivers his mail about the missing Masters tickets," a sheriff's report says. "His mail carrier advised him that she remembered putting the envelope from the Augusta National in his mailbox in early March."
The victim notified Augusta National Golf Club about the theft.
Tournament day tickets on TicketCity.com were selling for thousands of dollars at the time of this writing. However, Augusta National says the Masters Tournament is the only authorized ticket source.
Check back with AugustaCrime.com all week for any crime news related to The Masters tournament.