DNA evidence has tied a local man to a 1990 homicide in North Augusta.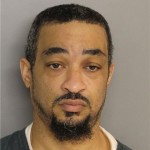 Vincent Maurice Hampton, 44, has been charged with murder in the slaying of Gloria Dickinson. The victim was also 44 when she was found strangled in Room 11 of the Downtown Motel on the 100 block of Georgia Avenue on Oct. 30, 1990.
In April of this year, North Augusta Public Safety received notification from SLED that there had been a CODIS DNA hit on the cold case linking Hampton to the victim.  Detectives discovered that Hampton was jailed in the Richmond County Detention Center on simple battery charges. He also had been convicted in 2014 of aggravated assault, weapon possession and terroristic threats, but he only got probation.
Hampton fought extradition back to South Carolina after he was linked to the murder through DNA, but he was eventually released from Georgia and transferred to North Augusta.  On Thursday, he was booked and transported to the Aiken County Detention Center.
"It's important to point out that the key piece of DNA evidence left behind at the scene of the crime that eventually led authorities to Hampton had not yet been discovered," NADPS Lt. Tim Thornton said in a press release. "It is a tool that has proven itself time and time again to be crucial for successful prosecution.  Law enforcement personnel are encouraged about the potential resolution of other cold cases where scientific methods have yet to be discovered."
Hampton has been in the Aiken County Jail before with a 2011 arrest for DUI and open container.
The Jail Report featured Hampton over the summer for an assault on his daughter. In that case, authorities say he had been drinking and assaulted his teenage daughter at a family party in Augusta. A sheriff's report says he grabbed the girl by the arm and when she snatched it away, he grabbed her harder and slammed her into a car door.  The girl had bruises on her right arm and her back. She also had scratches on her back and she had a knot on the back of her head, the report said.
A deputy spoke with Hampton on the phone to meet with him about that assault, but Hampton said no and that the officers would have to find him, the report said. They found him a few weeks later.