An Augusta man has been charged with "homicide by vehicle" for allegedly causing a wreck on Halloween Day that that killed his wife.
Authorities say that 77-year-old Hu Ki Hwang failed to yield his Buick Century while turning left off Doug Barnard Parkway and drove into the path of a Toyota Corolla, authorities said.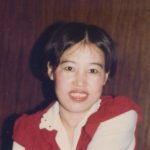 Coroner Mark Bowen said the Buick Century overturned during impact, killing the passenger, 73-year-old Soon Myung Hwang (pictured).
Funeral services for Soon Hwang were held last Monday and the victim's husband was arrested four days later, on Friday. He was charged with misdemeanor charges of homicide by vehicle and failure to yield.