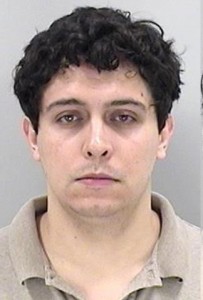 Charges of DUI and homicide by vehicle have been filed against an Augusta man who crashed into a motorcycle and killed a man and injured a passenger, authorities said.
Peter McNally, 30, of Alexander Drive, was blamed for Wednesday night's fatal wreck at Washington Road and Alexander Drive that killed 51-year-old Ronald Lovett.
Authorities say McNally's 2006 Nissan Maxima was traveling east on Washington Road in the left turn lane at its intersection with Alexander Drive. Also, a 1998 Suzuki GSX 600F (driven by Lovett) was traveling west on Washington Road approaching the intersection of Alexander Drive.
The traffic signal had just turned yellow as McNally was attempting to turn left onto Alexander Drive directly in front of the motorcycle as Lovett was proceeding through the intersection of Washington Road and Alexander Drive. The front of the Nissan Maxima struck the front of the Suzuki GSX 600F. As a result of the impact, Lovett and a female passenger of the Suzuki GSX 600F were ejected from the Suzuki GSX 600F.
Gold Cross arrived on the scene and transported both Lovett and the female passenger to Georgia Regents University where Lovett succumbed to his injuries. Georgia Regents University is listing the female passenger in serious condition.
McNally has been arrested and charged with the following, DUI, homicide by motor vehicle, serious injury by motor vehicle and failure to yield while turning left.