An Augusta man who got probation in April on a DUI charge was blamed for Tuesday afternoon's head-on collision that killed himself and a young lady in another vehicle, authorities said.
Kevin Wells, 54, was traveling on the 1800 block of Highland Avenue around 2:45 p.m. Tuesday when he crossed the center lane and struck a southbound Hyundai Alantra head-on, killing that driver, 26-year-old Cassandra Roselli of Augusta, Coroner Mark Bowen said.
Both drivers were rushed to Augusta University Medical Center, where they both died. Wells died at 3:34 p.m. and Roselli died at 8:27 p.m., Bowen said.
An autopsy will be conducted on Wells on Wednesday, the coroner said.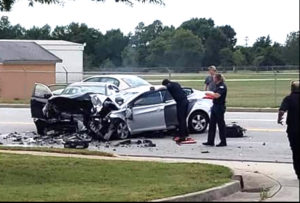 According to online court records, Wells had a 2013 charge for driving under the influence of drugs, which remained pending for six years before he was finally allowed two months ago to plead guilty to a reduced charge of reckless driving. Prosecutors also dropped three other charges, including driving with a suspended registration and no proof of insurance. Judge David D. Watkins gave him probation on the reckless driving charge on April 15, 2019.
Wells was also charged with two counts of obtaining a controlled substance by theft in 2013, and those charges lingered for four years before he was given first offender status in 2017 and a sentence of probation.
Note: If you have a photo or memory of Roselli to share, please text it to The Jail Report at 803-487-3224.