An Augusta man was fatally shot near the Waffle House parking lot early Tuesday, authorities said.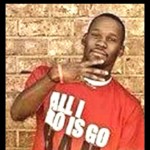 Terrance Terrell Baker, known as "Tezzy" to friends, was found shot about 5:20 a.m. Tuesday on the 3400 block of Wrightsboro Road in Augusta.  Baker was shot at least one time, Coroner Mark Bowen said in a press release.
"(He) was observed deceased just outside of his vehicle from an apparent gunshot wound," sheriff's Sgt. Michael Shane McDaniel Sr. said in a press release. "There is no suspect information at this time."
Baker was 26 years old and lived on Cameron Drive, authorities said. His body will be taken to the GBI Atlanta Lab for an autopsy Tuesday.
Photo: The Jail Report is looking for a good photo of Tezzy. If you have one, please email it to publisher@thejailreport.com or text it to 803-487-3224.