Richmond County authorities are investigating the death of a man who was found shot to death after midnight Tuesday at Fox Den Apartments.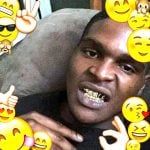 Jamie "Moonie" Owens, 22, of Kendrick Place (pictured), was killed in the overnight shooting. No suspects or motive has been announced.
According to a press release, sheriff's office personnel were flagged down at 12:21 a.m. Tuesday on the 300 block of Fox Trace Drive. Someone had found the victim lying on the ground.
Owens was pronounced dead at the scene.
Local residents and those who knew "Moonie" are already reacting on social media.
"Parents we need to do better," Miechelle Starks said on Facebook. "Our youth are dieing before they get to live."
For more crime news, pick up the current edition of The Jail Report, sold in local gas stations for $1.75.