An Augusta man who served prison time for video-taping up women's dresses at local businesses has returned to his old tricks, according to authorities.
Charles David Tremblay, 39, served four years in prison for using his cell phone to take video up the skirts of female shoppers at the Augusta Mall and at the local Target in 2008. He was released from prison in April 2013.
On Friday, he was arrested again for returning to the Augusta Mall and videotaping up the dress of a young Macy's employee with his cell phone, according to a sheriff's report. The incident occurred Dec. 23, but warrants weren't obtained until Friday after a warrant hearing. That's where the victim appeared to tell a judge what happened, and the judge issued a warrant for unlawful eavesdropping or surveillance.
Tremblay was arrested and held at the Richmond County Jail on a $10,000 bond.
The 21-year-old woman said she was speaking to a customer when Tremblay tried to record under the employee's dress. Another employee saw him and told the victim.
"Tremblay immediately stood up and began fumbling with his phone as if he was trying to frantically delete something," a sheriff's report says.
A loss prevention officer got Tremblay's information before he left Macy's. The store surveillance video shows Tremblay walking toward the young woman, setting down his bags and sliding his phone underneath the woman's dress on the floor while acting as if he is tying his shoes. The video clearly shows the cell phone is lit up and powered on.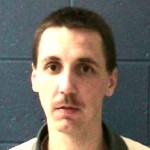 LONG HISTORY OF PEEPING. Prison records show that Tremblay was sentenced to five years each for three Peeping Tom incidents in Augusta in 2008. Judge Michael N. Annis allowed the man to serve the sentences concurrently, or at the same time, so the pervert got out early after serving four years. He is pictured here in his prison mugshot.
In 2008, his arrest made big news in the Augusta area. He was employed at Wild Wings off Washington Road, where he was arrested as he arrived at an evening shift, according to media reports.
He was the man identified through surveillance who went into the Target along Robert C. Daniel Jr. Parkway. Authorities said he was caught on video cameras in the store using his cell phone to take pictures or video under the skirts of unsuspecting female shoppers. He was also investigated in November 2007 at the Augusta Mall for placing his phone under the skirt of an unsuspecting female.
At the time, Tremblay was making headlines across the state of Georgia. Two residents at the Polo Club Apartment Complex in Athens spotted him hiding in the bushes back in 2006.
In 2008, a sheriff's lieutenant named Scott Peebles told local media that Tremblay had obvious impulse issues. "(He) cannot control his own behavior or refuses to do it so we're going to accommodate him in a place to stay until can he can do that," Peebles said at the time.