An Augusta man is in custody for Wednesday night's brutal stabbing death of a donor inside the Biotest Plasma Center.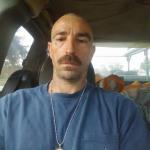 Keunte Laroen Green, 23, is being charged with murder and weapon possession in connection with the stabbing death of 42-year-old David Boykin.
The suspect allegedly used a machete that was 2 1/2-feet long, stabbing the victim multiple times inside the plasma center on Peach Orchard Road, authorities said. The incident happened just before 9 p.m. in front of a lot of witnesses.
Boykin was reportedly donating plasma to get money for his light bill. He has a history of drug possession and has a swastika tattoo. Authorities are reportedly investigating whether there is a racial motive to the homicide since Boykin was believed to be a white supremacist and the suspect is black.
According to a sheriff's press release, "There had been some sort of verbal altercation between Green and Boykin which turned physical, at which time Green brandished a large bladed instrument and stabbed Boykin several times."
Last year, Green was charged with possession of an illegal weapon.
Note: If you have a better photo of David Boykin, please text it to The Jail Report at 803-487-3224.
For more crime news, pick up the latest edition of The Jail Report.