Just hours after The Jail Report distributed its latest edition in stores Friday with Shawnkuri Walker on the cover, the wanted suspect was finally captured in Augusta.
Walker 20, was wanted for allegedly slashing a woman's face with a knife last Sunday.  Authorities booked her into the jail at 4:20 p.m. Friday. No bond. Here is her new mugshot, where she showcases fancy new braids.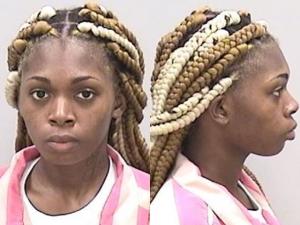 But this was far from the first accusation about Walker, and it's questionable why the suspect was free to roam after multiple reports of lawlessness in the last year and a half.
   Last Sunday's fight was a result of an ongoing dispute between Walker and the 28-year-old victim.
   "It had something to do with a boyfriend," a sheriff's report says.
   Deputies found the victim Sunday morning on B Street with multiple large cuts that covered her face and head, and she was taken by ambulance to Augusta University Medical Center.
   The victim told authorities she was going to her car when she observed Walker get out of a 2016 black Kia Forte and approach her.
   "Walker then attacked her and a fist fight ensued," a report says. "During the fight, Walker pulled out a knife and began cutting (her) face. Walker then got into her vehicle and fled."
   This wasn't Walker's first attack, either. It was her FOURTH, the victim said.
   On June 4, the same victim told authorities that Walker is "the baby momma" to her "male friend" with whom she is sleeping.
   She said Walker punctured two tires and carved in the paint of the vehicle with a knife on June 4. The suspect allegedly had a green aluminum baseball bat while at the victim's house and was screaming for the victim to come out. When the victim's friend came out, Walker swung the bat near her before the suspect's friend convinced her to leave.
   Walker also was arrested over a year ago for simple battery and criminal trespassing, but her case has lingered in the court system. A website says a jury trial is set for August 2022.
   Yes, in two years.
   In that case from May 27, 2019, Walker was a teenager when she and two girlfriends allegedly jumped out of a vehicle with bats on B Street. According to the report, she surrounded a woman and hit the victim at least 11 times "from the top of her back to her feet."
   Someone tried to pull them off her and one of the females took their bat and smashed the front driver's side window of a Hyundai Sonata.
For more crime news, pick up the latest edition of The Jail Report, sold in local gas stations. You can also download it on your phone or computer at thejailreport.com