An employee of the Evans Belk was arrested last Wednesday for a four-month scam using non-receipted returns.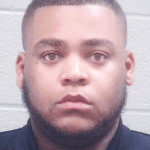 Jevon Stukes, 22, is accused of stealing nearly $25,000 by making returns for his own financial gain, a sheriff's report says. The company's Area Asset Protection Manager told deputies that a report shows a long list of non-receipted return items that came back to Stukes.
A warrant describes the scam: Stukes would select merchandise from the sales floor and then ring up the item as a return. He then altered the price of the item to a higher price than the original sticker price. He then placed the money from the return on his debit card and returned the merchandise to the sales floor.
The suspect was charged with theft by deception and felony theft by shoplifting.
For more crime news, pick up the latest edition of The Jail Report, sold in local gas stations.