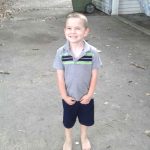 A Hephzibah man has been charged with murder in Monday's shocking shooting death of a 6-year-old child living in his home.
Benjamin Wesley Goodson, 32, of 1602 Keron Way, allegedly pointed a shotgun at 6-year-old Eugene Stamey and pulled the trigger. But the weapon didn't go off, according to warrants.
So Goodson pulled back the hammer and fired again, point blank, striking the child in the chest and killing him, according to arrest warrants.
The child appears to be the son of a woman Goodson was living with. She was possibly his girlfriend, authorities said. A motive is not clear, but warrants accused Goodson of being cruel to the child in a malicious way.
The suspect is charged with murder under the Family Violence Act, aggravated assault under the Family Violence Act, cruelty to children in the first degree and weapon possession.
Check back here for more updates, as we get them.
For more crime news, pick up the latest edition of The Jail Report.