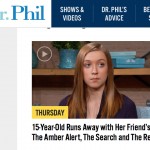 Evans teen Calah Waskow has revealed to Dr. Phil why she ran away to Tennessee with her friend's dad.
Now, a month after Calah flew to Los Angeles with family for the sit-down interview, the show will air this Thursday, Feb. 2, according to the show's website. The website has this headline:
 15-Year-Old Runs Away with Her Friend's Dad: The Amber Alert, The Search and The Rescue
A summary of the show:
"Calah Waskow made national news when the 15-year-old was allegedly abducted by her friend's 37-year-old father.  Authorities issued an Amber Alert, and Calah was found safe five days later, but many questions remained. What happened to her while she was missing? Did she have a secret relationship with the older man? Calah tells her story in an exclusive interview."
In the Augusta area, the show airs weekdays at 4 p.m. on WAGT-TV NBC Channel 26.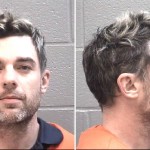 Background. Jason Arlis Johnson remains in the Columbia County Jail under no bond, charged with aggravated child molestation on the teen. Other charges include enticing a child for indecent purposes, contributing to the delinquency of a minor and an additional count of child molestation.
The North Augusta man made national news last month when he left town with Calah. Authorities say he was wanted for having a lengthy sexual relationship with the girl. An Amber Alert went out over several states when he reportedly took the girl from her Evans home.
Sevierville law enforcement report that they got a call from a man who was following the pair. Johnson and the girl were traveling between gas stations before they were finally stopped at the Russell Stover Candy Store sometime on Dec. 10.
Johnson was taken into custody at the Sevier County Detention Center. Calah's mother, Nora Waskow, told reporters that she was put on the phone with her daughter about 3:30 pm Saturday, Dec. 10, after being called by an officer from the sheriff's department.
"She said 'Momma, I just want to come home,'" Nora said. "She said she saw us on the news and she said she was okay. She said she was all right."
Calah was taken to a juvenile detention facility as a runaway until a judge signed her into her parents' care. Within days, Dr. Phil was flying her and her family out to California for the sit-down interview. Since then, a crew with the show has been seen around Columbia County taking video of various locations, including the county jail. 
As The Jail Report told you last month, Johnson met Calah through his step-daughter, who is about the same age, according to Columbia County Sheriff's Maj. Steve Morris.
Apparently, the 15-year-old girl was in juvenile court as an unruly juvenile. That is where authorities learned about her sexual relationship with Johnson, which allegedly occurred since July when Calah would sneak out of her Evans home to meet Johnson.
Calah's older brother, Jayson Wheatley, told a TV station that three or four women had contacted the family on Facebook stating Johnson had abused their children.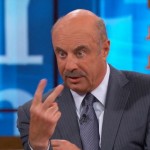 About Dr. Phil.  His full name is Phil McGraw, and his show debuted in September 2002. He offers advice in the form of life strategies from his life experience as a clinical and forensic psychologist.
The show, Dr. Phil, is in syndication throughout the country and several other countries. Its 15th season premiered last fall.