Duck hunters discovered bones Sunday morning that turned out to be human remains, according to Richmond County authorities.
The discovery was made about 9:30 .m. Sunday in a wooded area between Douglas Bernard Parkway and Gordon Highway.  The remains has not been identified.
"Investigators will be working with the GBI Crime Lab to assist in recovery analysis," sheriff's Sgt. Monica Belser said in a press release. "This incident is not labeled a murder at this time."
Sgt. Belser said investigators are asking for privacy as they work the area for further collection. The exact location in the woods is not available.
"Whether the bones are male, female, black or white is not known," she said.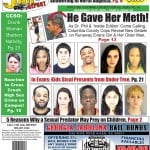 For more news from local law enforcement, pick up this week's edition of The Jail Report.