A young mother's secret life of prostitution from her home in North Augusta was exposed this week with her arrest by Aiken County author
ities.
Kristen Perry is facing 21 counts of prostitution for a series of "escort" ads she allegedly posted on Backpage.com offering sex with strangers for between $100-$200, depending on how much time they wanted. Some ads included pictures of a female's vaginal area and her breasts with a phone number that belonged to Perry, according to warrants obtained by The Jail Report.
"Ready to meet gentlemen, must be white or donations will be higher," the 26-year-old suspect allegedly wrote in the ads. She asked for $100 for a quick visit, $150 for a half hour and $200 for an hour.
In one backpage.com ad from Jan. 19, she wrote, "Kinky fun, I'm in North Augusta…private residence," and "ready now." The ad is accompanied by a photo of buttocks in a thong. "Fetish welcome," said yet another ad with an email listed as "cumslut2069@gmail.com"
The ads were traced to her home on Maple Drive using the ad's Internet address and a warrant for Comcast records. The Aiken County Sheriff's Office executed a search warrant on her home this week and she was arrested Wednesday. She has since been released on bond and told someone on Facebook that it's "a different story than it appears."
A Facebook page for the suspect shows her posing with two small children and a man, and she lists her relationship status as "Engaged."
The crackdown comes in the middle of Masters Week, when the "Escorts" page of Augusta's Backpage.com section features several naked women offering Masters Week specials.
"Pretty Young Thick Thang, In Town for Masters Week, 22," said the headline of one ad, which included several pictures of a woman's breasts and buttocks dresses in bikinis and thongs.
In Perry's case, she often told potential customers that she was looking for serious people only and "not law enforcement."
"Couples welcome," one ad said, according to one of 21 warrants filed against her. In that ad from Dec. 28, she allegedly included a nude photo of a female's front torso visibly displaying her breast and a belly piercing. All of the ads documented by law enforcement were from the months of December 2015 and January 2016.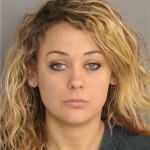 According to the warrants, she allegedly placed the ads "for the purpose of procuring or soliciting for the purpose of prostitution."