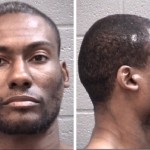 The King's Spa rapist has been caught.
Damione Aaron Evans, 39, of College Park, Ga., is in custody at the Columbia County Detention Center. He is charged with rape, aggravated battery, aggravated sodomy, two counts of kidnapping and robbery. There is no bond.
Evans was traced to the Atlanta area using phone records of people who called the spa and his social media account. Photos posted by the suspect matched the surveillance images from the spa.
Evans has no prior criminal history. Authorities identified him this week and went to Atlanta on Tuesday to try and locate him, talking to his mother. By the end of the day, Evans surrendered to Fulton County authorities and was transferred to Columbia County on Wednesday, sheriff's Maj. Steve Morris told The Jail Report.
"That's all it boiled down to: good old-fashioned police work that pointed us in the right direction," Maj. Morris said.
The crimes occurred at 4 p.m. May 22 at the day spa, located at 337 S. Belair Road in Martinez. The victims said he knocked on a door that leads to the back rooms. When an employee answered, he knocked them to the ground and they lost consciousness. The suspect then went to the kitchen area and stole $300 from a drawer.
Once the suspect got the money, he forced a second employee to perform oral sex on him, and then forced her to have sexual intercourse with him. The suspect then fled in a black vehicle.
(For more crime stories from the CSRA, pick up this week's edition of The Jail Report.)