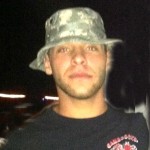 Aiken County authorities are examining the details of a shooting in Graniteville in which a man was found shot to death.
No charges have yet been filed in the death of 30-year-old Leroy W. Brown (pictured from Facebook), according to sheriff's Capt. Eric Abdullah.
Authorities responded to a shooting at 3 in the morning Monday at 112 Woods Haven in Graniteville and found Brown dead. Investigators detained the male roommate and are consulting with the Solicitor's Office on whether charges are appropriate.
Friends of Brown are already remembering him on Facebook and commenting on the circumstances, with some calling the shooting an "accident."
"I'm still in utter shock that you're not here anymore," said Carissa Leischner. "Trying to speculate about why it happened isn't worth it, and I know you wouldn't want us to do that anyways. I'm trying to just keep laughing at all the jokes you used to tell and keep smiling while I remember your kindness and sincerity."
Said Olivia Morin: "I hope your weary soul found peace. You, your humor and ability to change the mood of anyone in a room will be missed. Your laugh was so contagious, I can't count the times I've pissed myself laughing at you. Now it just doesn't seem real, I'll see you again Leroy Brown."
Editor's Note: If you have a better photo of Leroy or a memory to share, please text it to The Jail Report at 803-487-3224.
Because of Thanksgiving, this week's edition of The Jail Report will hit stores a day early, on Tuesday, Nov. 22.