A Grovetown High School student was arrested Friday for shoving her Spanish teacher, according to a sheriff's report.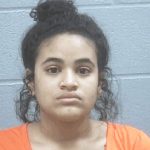 Glorini Ortiz-Marrero, 19, was charged with simple battery on an employee of the public school system.
Glorini showed up 30 minutes late to class Friday and knocked on the door. Teacher Desteni White opened the door and told the student she would have to go to the office "because she had missed 30 minutes of class and she was skipping," a report says.
From a sheriff's report: "The student got upset and refused to leave. The student then shoved Ms. White out of the door way in order to gain entry into the classroom and gather her book bag and items."
Seven other students served as witnesses to the student's assault, a report says.
For more crime news, pick up the current edition of The Jail Report, sold in local gas stations for $1.75.