Superior Court Judge Daniel Craig has issued arrest warrants for a corrections officers accused of smuggling in meth and marijuana into the Augusta State Medical Prison.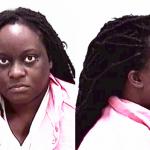 Keturah Dunbar, 33, of Augusta, was charged Tuesday with meth trafficking, violation of oath by public officer, and two counts of crossing guard lines with drugs.
On Monday, Dunbar came inside the medical prison with marijuana and methamphetamine while arriving for work, according to arrest warrants obtained by The Jail Report. The warrant says she was bringing in the drugs to give to an inmate.
The warrant says the drugs included between 200-400 grams of meth. It takes 454 grams to equal a pound.
Dunbar remained Wednesday morning in the Richmond County Detention Center.