A Hephzibah mother was arrested Saturday after her 1-year-old son was found with serious injuries.
Koren Michelle Thurston, 40, is accused of causing her 1-year-old son cruel physical pain on Saturday afternoon at their residence on the 4200 block of Windsor Spring Road, according to an arrest warrant.
"The child sustained by unknown means multiple bruises to his head, arms, legs and chest, along with swollen genitals," the warrant says.
Thurston remained in jail on Sunday under no bond.
If convicted of first-degree child cruelty in Georgia, Thurston faces 5-20 years in prison. But that doesn't normally happen.
Two years ago, mother Jessica Reynolds left a baby and an 8-year-old child in a hot car while she was at a Plasma Center in Augusta. The outside temperature was 105 degrees. When they were discovered, the boy was alert in the front seat while the baby was in the back seat unconscious and covered in feces.
Reynolds, 28, was jailed after the discovery led to the hospitalization of both children. She was charged with two counts of first-degree child cruelty and pleaded guilty, but Judge Ashley Wright gave her 15 years of probation in both cases, according to online records.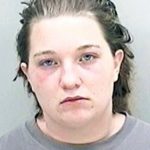 In a November 2018, case, Augusta mom Michaela O'Grady was arrested for allowing a co-defendant to hit her 3-year-old daughter with a belt numerous times and twist her left leg. The child sustained a spiral fracture to her left leg and bruising covering her body, but the mom waited to get medical attention. O'Grady also allowed similar abuse to happen to her 4-year-old daughter, who suffered bruising to her face, arms and legs.
O'Grady was charged with two counts of first-degree child cruelty, and her case lingered for two years. In December 2020, she finally went to court where she was given a reduced plea to two counts of second-degree child cruelty. Judge John Flythe sentenced her to 1 year and three months in prison as well as probation and 1,000 hours of community service.