A Hephzibah mom's boyfriend has joined her in jail after unexplained injuries were found on the woman's 1-year-old son.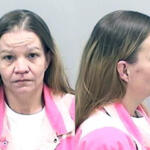 Thomas Wade Porter, 36, was charged early Sunday with cruelty to children in the first degree. He is the boyfriend of 40-year-old Koren Michelle Thurston, who was charged Saturday with causing her 1-year-old son cruel physical pain at their residence.
The child sustained multiple bruises to his head, arms, legs and chest, along with swollen genitals, an arrest warrant says.
The child's biological father reported the injuries on Saturday after picking him up from his mother's residence on the 4200 block of Windsor Spring Road. The child was dropped off on Wednesday with no marks.
When the child's father picked him up, he noticed his son had bruises all over his face. He took him straight to the hospital.
Thurston told him she didn't know what happened to the child's mouth, a sheriff's report says. But she confessed that the child was left alone with her boyfriend at some point.
Both Thurston and Porter remained in jail on Monday night under no bond.