Aiken County authorities have released this sketch of a suspect wanted for assaulting, robbing and tying up an elderly couple in Perry on Wednesday night.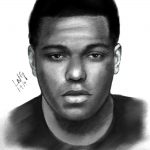 The suspect and another man knocked on the door of elderly resident Earl Toole on Festival Trail Road on Wednesday night. The men reportedly asked to use a phone after running out of gas. When Mr. Toole turned around, the suspects jumped on him and beat him up. They also assaulted his elderly wife, leaving her with a knot on her head and injuries to her leg.
The men then bound the couple up and robbed them. They even ripped out the phone line to keep the victims from calling 911 once they were free. Mr. Toole was forced to ride down the street to call for help from a neighbor's house. Both went to the hospital.
The two suspects were described as black males, approximately 6'0" tall and in their mid-twenties, authorities said.
On Friday, the victims were able to assist investigators and South Carolina Law Enforcement Division agents with producing a composite sketch of one of the suspects that entered the home, sheriff's Capt. Eric M. Abdullah said in a press release. The suspects should be considered armed and dangerous.
Anyone with information on the identity of this suspects or information on this case, please call the Aiken County Sheriff's Office at (803) 648-6811. You can provide information anonymously through Midlands Crime Stoppers. Your tip could earn you a cash reward of up to $1,000 for information leading to the arrest of the person(s) responsible for this crime.
For more crime news, pick up the latest edition of The Jail Report, sold in local gas stations.