This is Fatima Frasher of Hephzibah. She is rolling her eyes because she didn't like a deputy telling her to stop for pedestrians at the Walmart on Wrightsboro Road.
So, she got arrested last week for obstruction.
Sheriff's Cpl. Eard Trimmingham explains why he arrested her in his report:
"I, Cpl. Trimmingham, was in the parking lot of Walmart, walking in the crosswalk, towards the entrance door, when I observed a black Honda Accord coming towards me and didn't appear to be stopping.  I raised my hands at the driver of the vehicle, in order for her to stop, but she kept inching up.
"I made contact with the driver, identified as Fatima Frasher, and told her that she needs to stop for pedestrian in the crosswalk.  She began to get irate and told me it's a yield sign, not a stop sign. After trying to explain to Frasher why she needed to stop, I asked for her driver's license and proceeded to write her a courtesy warning.
"Frasher approached my vehicle, still in an irate manner, telling me to hurry up, she had to go.  I continue to write the warning ticket but she kept on with her attitude.  I told Frasher that she was becoming disorderly and she stated 'you right, I'm gonna be disorderly.'   I then instructed Frasher to go back to her vehicle and wait for me, she refused.
"I instructed her again, but she still refused.  I then attempted to detained Frasher and she began to resist, pushed me and struck me.  After she continued with her combative behavior, I called for assistance.  I was able to place Frasher in custody. …  I sustained a dislocated left shoulder during the incident with Frasher."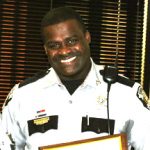 Cpl. Trimmingham is the same officer who was recognized for saving a child's life in 2014. Here is a description of that incident:
"On Wednesday July 2, 2014, Corporal Trimmingham was patrolling the area around the 200 block of Boy Scout Road when he was flagged down by a very excited 7 year old son of Treeuisha Walker, of 222 Boy Scout Road. He told Corporal Trimmingham that his mother needed him. He responded and was advised by Ms. Walker that her 3 year old daughter, Michiah Walker, was choking on a piece of candy. She told him that she had stuck her finger in the child's mouth to try and remove it but it wouldn't come out. Corporal Trimmingham took the child and performed the Heimlich maneuver and the candy was dislodged. He then called for Gold Cross Ambulance Service to respond and check the child. She was determined to be fine and did not need any further treatment."
Don't Miss our "Worst Crooks of 2018" Special Edition, available in stores on on Friday, Dec. 28.