A teacher at Lakeside Middle School took out a warrant on her student's father for a series of harassing texts, including one that called her the C-word.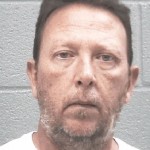 Kevin Michael Leverett, 48, was charged last Wednesday with harassing phone calls.
The teacher is a cheerleading coach. She told deputies that Leverett was one of her student's parents, and he was sending her text messages of a hostile manner.  She told him by text that her students would not be performing and Leverett began demanding more answers.
From a sheriff's report: "Gradually, Mr. Leverett's texts become more vulgar with multiple laced profanities directed towards (her)."
The teacher politely advised Leverett why the students would not be performing. Leverett responded with vulgarities, using a phrase that used the F-word and the C-word. And those were "among other profane names," a sheriff's report says.
An arrest warrant says Leverett was warned to stop contacting the school employee, but he continued to send a series of six additional texts.
For more crime news, pick up the latest edition of The Jail Report, sold in local gas stations.