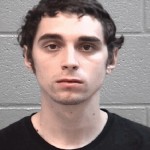 A Martinez man who sent a gift package to his wife and their child was arrested Friday, authorities said.
That's because the couple is separated and the wife has a temporary protective order against 23-year-old Chandler Bradley.
According to a sheriff's report, Bradley sent his wife and child a package containing gifts last week. The package also had a card inside with a note saying, "I'm going to jail anyway."
And he was right. The wife called the sheriff's office, showed them the note and the restraining order and asked them to arrest her husband. The suspect confessed to sending the package and note and was arrested for stalking.