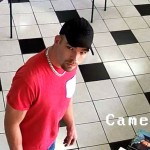 Wanted: A thief who stuffed some rare coins down his pants at a Martinez store last month and left.
The angry-looking thief waited until an employee of Clein's Rare Coins was distracted on March 22 and then grabbed a coin collection and placed it in his pants. The coin set was a rare 1994 Veterans Dollards 3-piece coin set. It was valued at $150.
Luckily, a surveillance camera caught one of the clearest images ever of  a local suspect. And he looked right at the camera! See if you recognize him.
If you know him, please call the Columbia County Sheriff's Office at 706-541-2800.
If you haven't got this week's edition of The Jail Report, pick up your copy before it's gone. New Issues comes out each Wednesday and contains exclusive content not available anywhere else.