Dylan James Moore really knows how to repay a kindness.
An Augusta woman let Moore, who is a friend of her son's, spend the night at their Dunham Court residence last Tuesday because he was having trouble at home, a Richmond County Sheriff's report said.
The next day Moore emptied out the woman's safe, stealing more than $10,000 worth of antique and rare coins and jewelry, the report said.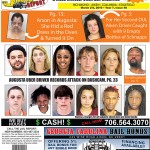 (This is one of many stories in this week's Jail Report. Pick up your copy today.)
The woman's son got Moore to admit that he stole the stuff and gave it to a clerk who works at the Sprint Gas Station on Peach Orchard Road. Deputies tracked the woman down and she said Moore had given her the coins and jewelry but she said she didn't given him any money.
Warrants were sworn out for Moore, but he couldn't be arrested until Friday because he overdosed, the report said.
Moore, 18, of Hephzibah, was charged with felony theft by taking, the report said.
The coins and jewelry were recovered.
It is unclear how the teen got the black eye shown in his arrest mugshot.