This suspect is wanted for stealing a vehicle from a Martinez gas station on Friday while a woman was sleeping in the backseat.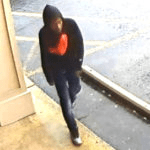 The woman told authorities that her husband stopped to get cigarettes Friday afternoon from the Circle K on Washington Road in Martinez. But she woke up later to a car door closing and realized she was at a park on Spring Lakes Drive with two credit cards missing from her purse.
The woman called her husband. He said he thought she left him at the gas station and took their 2011 Ford Fusion.
"The video footage shows an unknown black male or female wearing a black hoodie and an orange bag enter the vehicle when (the husband) went into the business," a sheriff's report says. "The video then shows the vehicle leave the parking lot."
If you recognize this suspect, please call the Columbia County Sheriff's Office at 706-541-2800.
For more crime news, pick up the latest edition of The Jail Report. Here is the cover.