Before she allegedly killed him and buried his body on their Augusta property, Sandra Dales was arrested for hitting husband Edward Cruey in the head with a hammer.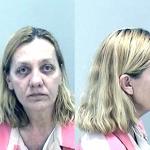 That domestic incident, last summer, could provide clues into the volatile relationship that led to his death at her hands. Dales was charged Saturday with his murder after a search warrant at their home on 3003 Jeannie Road turned up remains of a man in the backyard of the residence.  She is charged with murder and concealing the death of another. A missing persons report was filed in December.
A sheriff's report from July 27 provides great insight into a violent relationship fueled by drugs and alcohol.
On July 27, two Richmond County deputies met Dales in the roadway after she called them about an argument between her and her husband. She told the officers that Cruey "hates her dogs and that he told her that he was going to cut their throats."
From Deputy Stephen Brown's report:
"When asked how it started, Dales stated that she was merely putting the dogs out when Cruey told her that he would kill the dogs. Dales further stated that both she and Cruey have been drinking but that he just got out of hand. Dales also stated that Cruey hit her with a towel on the neck but that he did not leave a mark and that she did not want to prosecute. Dales stated that she feared for the safety of her dogs and herself.
"While speaking with Dales, I observed her to possibly be under the influence of an unknown substance. Dales appeared restless, had bags under her eyes and her pupils were slow to react to light changes.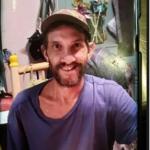 "After speaking with Dales, Deputies made contact with Cruey. Cruey was in the driveway and immediately sat down. Cruey did appear to be under the influence of alcohol. Cruey stated that he had been drinking but that Dales has been arguing with him since 10 a.m. this morning. Cruey stated that Dales has been recently depressed due to the loss of her mother and that she has been starting altercations with him.
"Cruey stated that Dales is supposed to be taking medication but instead, she has been using methamphetamine and smoking marijuana. Cruey stated that Dales is up at all hours and that she does not sleep. When asked about the dogs, Cruey stated that he never threatened to harm the dogs. Cruey also did not appear violent to the dogs that were present while deputies were on scene. Cruey further stated that this morning, Dales started an altercation with him and hit him in the top of the head with a hammer.
"Cruey pulled back his hair and revealed an injury to the top of his head that was not immediately noticeable. Cruey had a knot on his head that was red and had small hematomas on it consistent with being hit with a hammer. At this time, Dales immediately began screaming in the roadway that Cruey was lying.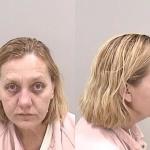 "I approached Dales and asked about the incident with the hammer. Dales stated that Cruey broke a plate for no reason this morning and then hit himself in the head with the hammer. When I attempted to find a location for either subject to go, Dales again became agitated and stated that she wasn't going anywhere. Dales further stated that this was her house and that even though they are married, it is not his house. Dales stated that she does not care and then stated that they would 'both be sleeping with a knife tonight.'
"Cruey stated that he never called because he did not want Dales to get into trouble and that he loved her. Cruey also refused to be seen by EMS."
"Due to Cruey's injury, the presence of the hammer and Dales' inconsistent statement, Dales was placed under arrest for Simple Battery in violation of the Georgia Family Violence act."
Dales, 55, ended up going to jail for simple battery – family violence, which is still pending after her request for a jury trial in August. Her husband disappeared in the fall and she never reported him missing. His family filed a missing-persons report December 17, and the sheriff's office released a missing persons poster for him.
Last month, Dales did an interview with WFXG-TV, where she said she thought her husband went off to die somewhere, but she didn't know where. She told the TV reporter that she "hoped he was OK."
Check back here for updates…