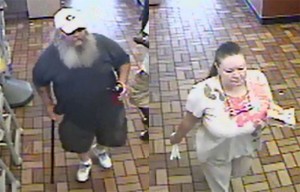 Two people were captured Saturday in the theft of a woman's purse from the McDonalds on Peach Orchard Road in Augusta.
Shirley Elaine Tindell, 59, and Michael Ray Honer, 59, both of Redd Drive, Augusta, were both charged with theft by taking.
The 65-year-old victim was enjoying breakfast with friends Friday and set her purse down on a counter. When she got up, it was gone.
Deputies asked the restaurant to review video, which showed a woman pick up the purse and hide it, then walk to a drink machine before heading outside to a Dodge pick-up truck with a wheel chair attached to the back. She was reportedly with a man who used a cane.
The images of the suspects were released to local media Friday and the couple were identified and arrested within a day.
Family members of the victim tell us the purse was recovered, but it was missing the $545 cash inside and the credit cards.
The victim's son sent us this message:
"My mother is disabled and only gets a very small amount of money to pay her bills every month. That morning on the way to her Friday morning church group meeting at McDonald's she cashed her check and planned on paying her bills after so she had over $500 cash in her purse at the time they took it. When they were arrested and ask about the purse and the money they said that they drove to SC and threw my mothers purse out to get rid of it and said that they paid their bills with my mothers bill money. This makes me very sad and very angry. My mom also had credit cards that have not been found yet.
"Please pray for my mother because it took a little while but the stress from all of this is finally catching up to her now and she's not in the best of health. My mother is a very kind and big hearted person. The thing is she would have probably given them the money if they ask and done without like she has always done. Good people always get done wrong. Thanks again for all the help catching these criminals.
"HUGE THANKS TO RICHMOND COUNTY SHERIFF'S DEPARTMENT, THE NEWS TEAMS AND EVERYONE ON SOCIAL MEDIA THAT HELPED CATCH MY MOMS PURSE THIEVES!! Special thanks to deputy Langford for making the stop and Brian Gross for treating my mother and myself with so much kindness and for treating our case no different than a bank robbery. Mr Gross and investigator Fanning stayed in contact with us the entire time. As a team all of Augusta pulled together and we found them in less then 48 hours. Great job and huge thanks from my family to yours!"