Eleven people were arrested Tuesday night for prostitution in Richmond County, an apparent sting operation by the sheriff's office vice squad.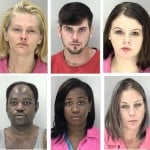 There were six women and five men taken to jail on charges of solicitation or transport for prostitution. Most suspect have addresses in the Augusta area, but one woman had an Alabama address and three were from Columbia, S.C.
The emphasis of the bust was placed on prostitution at area hotels.  During the course of this operation, calls were placed to various subjects suspected of being involved in Prostitution. This operation netted several Prostitutes, a Pimp and numerous persons that were providing transportation.
A similar bust in January 2014 netted 12 arrests and was focused on fighting online prostitution.
Those arrested Tuesday night for prostitution are pictured here in alphabetical order by last name starting from top left. Their names, ages and cities of residence include:
Ashley Nicole Alonso, 26, of Hephzibah
April Nicole Barton, 32, of Jasper, Alabama
Cody Austin Beasley, 26, of Grovetown
Chelse Lynn Bryant, 19, Homeless
Anastasia Danielle Carrington, 29, of Augusta
(Second row) Andreal Carter, 26, of Augusta
Bruce Earnest Davis Jr., 42, of Hephzibah
Tieccia Monea-Brown Lair, 22, of Columbia, SC
Melinda Rae Lowe, 42, of North Augusta
Edward Miller, 28, of Columbia, SC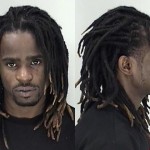 Also, Michael Kenny Carter, 32, of Columbia, was charged with solicitation or transport for prostitution. He is pictured at right.
Bruce Davis Jr, listed above, was also charged with marijuana possession. All suspects were booked into the Richmond County Detention Center on the misdemeanor charge.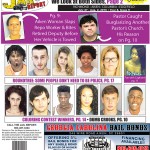 For more crime news, pick up this week's new edition of The Jail Report, sold in local gas stations for $1.50.