A local man was found dead from a gunshot wound inside a wrecked car early Tuesday, and his vehicle had evidence of bullets on the exterior, Richmond County authorities said.
Marcus Mandrell Scott, 38, of Keysville (pictured at right with girlfriend Shante Hill), was found slumped over the steering wheel on the 2300 block of Old McDuffie Road in Augusta.
The victim's 2014 Nissan Versa had left the roadway and crashed through two sets of chain-linked fences at 2384 Old McDuffie Road and then hit a vehicle, a 2014 Toyota Corolla, which was parked at 2386 Old McDuffie Road.
"Inside the vehicle, deputies located (the victim) who was found to have a gunshot wound and was deceased.  The vehicle also had signs on the exterior of being shot," sheriff's Sgt. Glen Rahn said in a press release. "Investigators are actively looking into this matter and no further details are available at this time."
The coroner's office identified the man as Scott, who had an address on the 300 block of Taylors Bridge Road in Keysville.  He was pronounced dead at 2:45 a.m. Tuesday.
Scott's body was sent to the GBI Atlanta Lab for an autopsy.
His girlfriend and brother say they were shocked by the death. Girlfriend Shante Hill spent Tuesday morning talking to investigators. She said Scott had been at S Bar last night and may have been followed by someone. Hill said she was told there was a fight there.
"He didn't have any enemies or anything," she said. "I think it is something that started at the club. They probably followed him and shot up his car."
The victim's brother, Cornelius Scott of Waynesboro, said he woke up this morning to the shocking news of his brother's death and has not been able to understand it.
"I am just trying to figure it all out," he said. "The streets here in Augusta are very dangerous, and I am trying to figure it out. And I want some kind of closure and justice for my brother."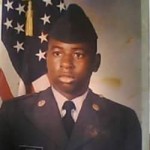 Cornelius Scott said his brother had three daughters and was a proud father and caring and outgoing man. He said his brother had served in the Army National Guard in the 1990s (shown here).
If you have a picture or a memory you want to share, please text it to 803-487-3224 or email it to publisher@thejailreport.com