A sergeant with the Richmond County Sheriff's Office has been arrested for domestic violence against his girlfriend, who also works as a deputy.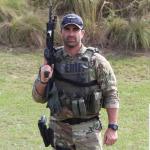 Jason Saal, 45, was charged today with simple battery – family violence and trespassing. A mugshot was not immediately available. We will update once it is released.
Here is the press release from Sgt. Caleb Lee the Richmond County Sheriff's Office
"On September 19, 2020 at 07:42 AM, the Richmond County Sheriff's Office responded to the residence of Sgt. Jason Saal and Dep. Alisha Anderson in reference to a loud disturbance.
"After investigating the incident, it was determined a verbal dispute turned physical between both persons and Sgt. Saal was listed as the primary aggressor. Sgt. Saal was subsequently arrested and charged with one count of Simple Battery Family Violence and one count of Criminal Trespass and committed to the Charles B. Webster Detention Center.
"Upon his release, Sgt. Saal will be placed on Administrative Leave pending an Internal Affairs investigation. No further information available at this time."
Saal is also known for his years with the Augusta Lynx hockey team.  He is a hall of famer, having played for several professional teams in different leagues throughout his 15-year career, including the Augusta Lynx. In January 2018, he was inducted into the East Coast Hockey League Hall of Fame.