There are new details in the one-vehicle wreck that damaged a patrol car and injured RCSO Deputy Vernon Johnson earlier this month.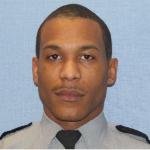 Johnson, 30, resigned before a meeting with RCSO internal affairs regarding the results of a drug screen, which was taken after the Feb. 6 accident in Jasper County.
According to a Georgia State Patrol report, Deputy Johnson was in a 2013 Dodge Charger patrol car, traveling north on State Road 83 in Jasper County at 5:11 p.m. on Feb. 6.
   Due to "heavy rain" at the time, the vehicle hydroplaned, causing Johnson to lose control of his vehicle, a Georgia State Patrol report says. The vehicle exited the right side of the roadway and struck a driveway culvert with its front end.
   The patrol car "became airborne" for about 15 feet before coming to a rest in the ditch, the report says. The vehicle sustained "extensive" damage to the front and rear of the vehicle.
   Johnson was taken to Navicent Medical Center for treatment. The report said he was going "too fast for conditions." The speed limit was 55 mph.
   Deputy Johnson resigned Friday prior to meeting with Internal Affairs about the results of the drug screen, according to sheriff's Sgt. Caleb Lee. The results of the drug test were not released.
"The Richmond County Sheriff's Office cannot comment on the results of his lab work as this information is protected under HIPAA and the GA Open Records Act," Sgt. Lee said. "Per protocol, a drug screen was administered.  Once our office received the results, Dep. Johnson was advised to report to Internal Affairs for an interview; however, he tendered his resignation prior to the interview."