It's a curious case that cries for resolution.
   Christa Caldwell died in 1972, and the news report says she died from suicide in the Augusta Library. Now, the woman's cousin is working with Investigator Alex Chilton to find out more about the death for family closure.
   The curious part is that there is no record of her death in the coroner's official log, and any police file has disappeared or been destroyed from flooding years ago.
   "We are looking for any information on Christa or her parents, James and Anne Marie Caldwell. Christa is buried in Westover Memorial Cemetery," Chilton said. "We need to know the story of her life and death.  We would like to get any available photos of her as an adult. Any information is welcomed."
  Contact him by email alex@chiltongibbs.com or through his website: www.chiltongibbs.com.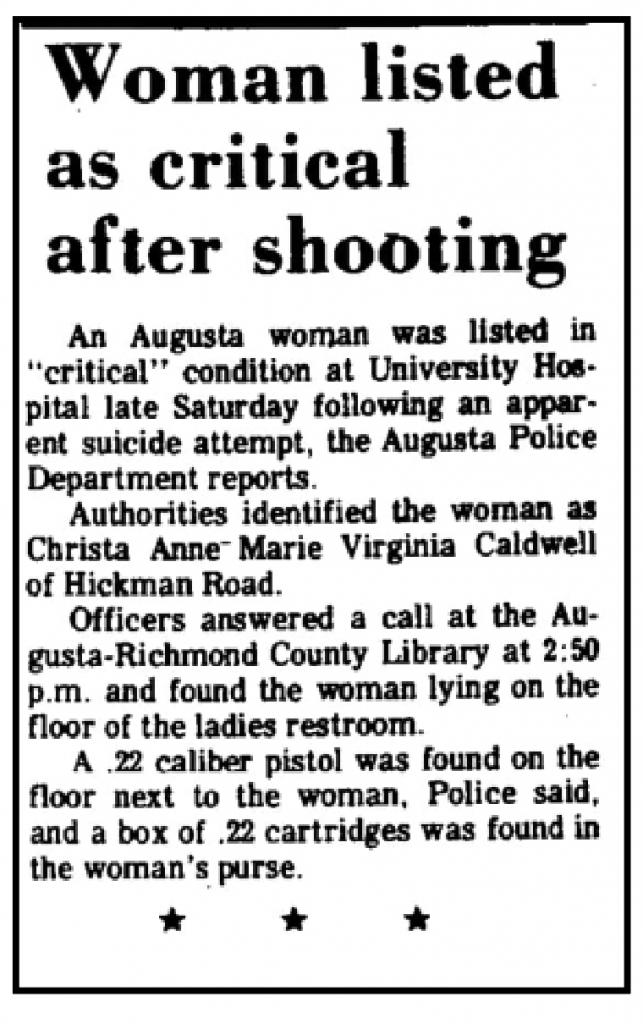 "I'm not saying there is anything nefarious about her death," Chilton said. "I think The Chronicle said it best when they said an 'apparent' suicide attempt. I don't think there was any closure on that.
   "'It's kind of turned into a mystery that everyone in my office has gotten involved in. … We all feel compelled to help the (cousin) with this. It's turned into a mission."